The collection of the Kiyoshi Saito Museum of Art, Yanaizu includes roughly 1,000 items, from woodblock prints to collagraph prints, copperplate engravings, lithographs, bokuga (sumi ink paintings), oil paintings, drawings, sketches, woodblock printing plates, Saito's favorite art supplies, New Year cards, letters, and other materials. As a museum named after this artist, we work to promote him inside and outside of Japan while gathering and preserving his artworks and materials, and also conducting research. Some of these efforts are introduced on this page.
Saito sincerely considered the art trends of the times while being constantly devoted to his studies until the end. He said, "My path as a woodblock printer is a path of human formation." Saito worked in a wide range of themes and expressive techniques, and his appeal was surprisingly multifaceted. His work has many different appearances made through varied approaches, showing his profound ideologies and even the historical background of the times he lived.
Artwork depicting Saito's thoughts and way of living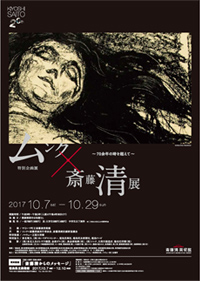 Munch and Kiyoshi Saito
(10/7 – 10/29/2017)
Saito learned about Norwegian painter Edvard Munch from an art magazine during his youth, and Munch remained an important artist to Saito. Saito said, "I responded to these Northern European fantasies and dreams, and was attracted to these expressions that are 'masses.'" What did Saito see in Munch's art? This exhibition analyzes how Saito's work changed from the 1950s to 1970s, and the significance of this, through Saito's connections with Munch.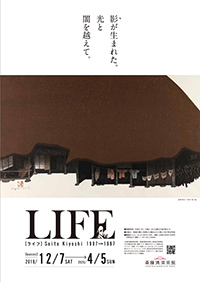 LIFE 1907→1997
(Season 1: 6/29 – 9/16/2019, Season 2: 12/7/2019 – 4/19/2020)
Saito was not afraid of change; when he fell into a slump he tried out brand-new techniques and explored new images. He drew global acclaim in the 1950s, found inspiration for his next step after a slump in the 1960s, and then continued returning and gaining greater depth in the 1970s and after. This exhibition looks at how his work transformed to demonstrate his changing feelings as an artist.
Multifaceted appeal
BEST OF THE BEST
(Part 1: 4/4 – 6/25/2017, Part 2: 7/1 – 10/1/2017)
Saito's work, which features a diverse range of themes and techniques, is divided into seven categories: White, Standing Still, People, Gaze, Feelings, To Travel is to Draw, and Anthology. Visitors can experience his style and how it changed. Saito's true essence is hidden inside works that have not been given much attention so far.
Re-examining famous works from a new viewpoint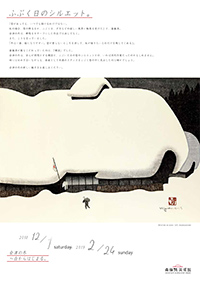 Silhouette of a Snowy Day
(12/1/2018 – 2/24/2019)
Saito's Winter in Aizu series is beloved for its "warm," "nostalgic" images. Young people are impressed by the cute, fluffy snow. However, the artist himself referred to these works as "compositions." If you clear your mind, you will see new, charming features in the poetic sentiments, forms, colors, and compositions. This exhibition introduces Winter in Aizu from a new approach that differs from past languages.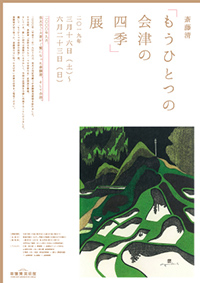 Another Four Seasons of Aizu
(3/16 – 6/23/2019)
Then-Crown Prince Naruhito and Princess Masako visited Aizu in September 2000. This exhibition features Saito's seasonal landscapes depicting Aizu scenery that the crown prince and princess likely viewed. Viewers can enjoy another view of the four seasons in Aizu that layers the eyes of the Imperial Family on the residents of Aizu, against the Aizu scenery that Saito continually depicted.
Struck with admiration for brush strokes and techniques
Platinum Modern: Kiyoshi Saito and Mica
(4/21 – 7/16/2018)
Mica has a glass-like sparkle that resembles shimmering fish scales. People have been enthralled by the mysterious properties of minerals since ancient times, and have utilized them for various purposes. Saito was one artist who loved mica. He used it not only to add sparkle to his surfaces, but also for artistic effects or as colors. This exhibition showcases his unique expressions that can be seen in the works of no other artist.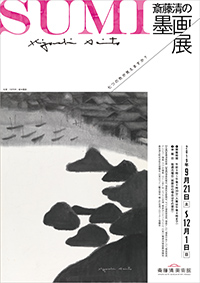 SUMI: Kiyoshi Saito's Ink Paintings
(9/21 – 12/1/2019)
After a local artist reached out to Saito, he said, "When I couldn't make any woodblock prints, I felt a sense of which direction I should proceed." Saito continued doing sumi ink paintings until the last years of his life. Saito had superior skills that allowed him to create richly original motifs and make use of the unique expressiveness of sumi ink. At this exhibition, visitors can experience the amazing talent of Saito through his bokuga (sumi ink paintings), which are different from woodblock prints and suibokuga (sumi ink wash paintings).
Connections with people and artists around the world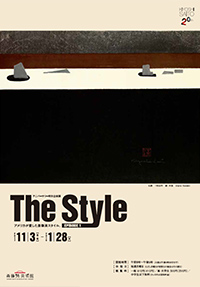 The Style: Kiyoshi's Style That was Beloved by Americans
(11/3/2017 – 1/28/2018)
Americans immediately took note of Saito's artistic qualities, and they also taught him the beauty of Kyoto and collagraph printing. Saito held solo exhibitions and printmaking lessons around the world and was friendly with local artists in these locations. Precious artworks, mainly from his early years, are in the collections of these museums and are enjoyed by many fans. This exhibition includes artworks and materials showing the close connections between Saito and Americans.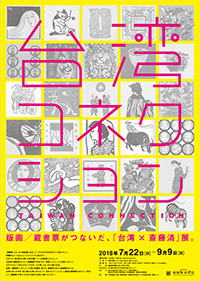 Taiwan Collection: How Woodblock Prints and Ex Libris Connected the Taiwan and Kiyoshi Saito Exhibition
(7/22 – 9/9/2018)
Bookplates (ex libris)—small pieces of paper with detailed designs—were born in Europe, then brought to Japan and then Taiwan during the Meiji Period. Many of these pieces have been produced, and communication continues between artists and fans. This exhibition shows the connections between Japan, Taiwan, and Saito through small woodblock prints and bookplates.