Kiyoshi Saito:
between abstract art and realism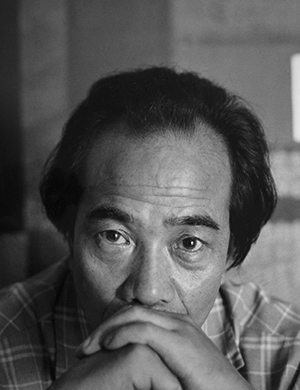 Kiyoshi Saito (1907 – 1997) is one of Japan's most renowned woodblock printers, with many fans inside and outside of his home country. He began drawing attention mainly among American residents from the late 1940s, when Japan was occupied by the American army. His artwork was printed in color in Time magazine in 1951. At the São Paulo Art Biennial that October, Saito and Tetsuro Komai became the first Japanese people to win prizes at an international art exhibition. This solidified Saito's popularity and acclaim across the globe.
Saito's works appealed to people at an early stage, and today continue capturing the hearts of many because of his miraculous images combining abstract art with realism. However, these were not easy for him to create.
Saito's works until the 1950s depict his motifs with simple forms composed of thick, flat areas of color. They were unique for their simple, dignified appearances. He used the woodblock print technique to depict exceedingly Japanese themes such as clay figurines; ancient Buddha statues; Kyoto temples and shrines; and the scenery of snowy Aizu, his birthplace. Saito's artworks conformed to the trends in the art world at that time, yet they were unique images no one had ever seen before.
However, Saito began questioning his own path as an artist and fell into such a deep slump in the 1960s that did not enter his studio. During this time of struggle he tried out new techniques like collagraph printing and bokuga (sumi ink painting), which broadened his range of expression. He also created numerous artworks with a strong awareness of the artistic effects of the printing materials, which seemed contrary to his previous intentions. Starting in the 1960s, his work incorporated complex nuances stemming from the flat areas of color. The biggest change was the way he depicted shadows in delicate gradations, which became prominent in his work from the 1970s. Saito's artwork grew more profound, with a sense of depth and strong spiritual qualities amidst the refined forms and compositions.
Saito quickly gained worldwide renown, and starting in the 1950s he repeatedly visited Europe and the United States to interact with local artists. It seems likely that he keenly perceived global art trends, and continually incorporated them into his own expressive techniques, more than anyone else at that time. However, he did not merely accept these trends without questioning them. Koshiro Onchi, a standard-bearer of contemporary Japanese woodblock printing, called Saito a "modern realist." As this suggests, realism was the basis of Saito's art. He constantly used real, visible phenomena as themes, and always produced complex sketches for his pieces. Saito posed a constant challenge to himself: linking his foundation of realism with the abstract art that was the mainstream style in that era to create his own unique images.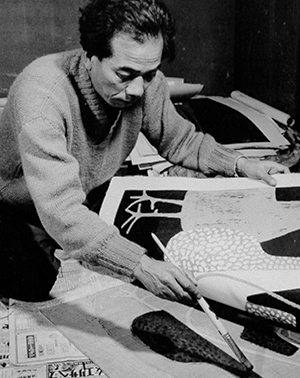 This was the source of his struggles during the 1960s, which led him to discover shadows.Saito's artworks depict a sense of vitality hidden in his landscapes and objects through exquisite shadows and richly nuanced effects. They continue capturing the hearts of many people today because, although the picture planes contain absolutely no unnecessary elements, viewers are invariably moved by the true essences of and feeling of liveliness in the motifs.
Abstract art and realism were in constant conflict during the 20th century. Saito's diverse, rich catalog of work spanning more than 70 years shows that he embodied the turbulent art world of the 20th century.
Birth and youth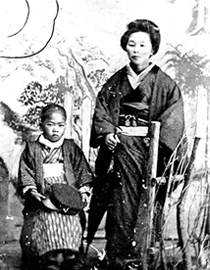 Kiyoshi Saito was born in 1907 in Aizubange Town, Fukushima Prefecture. He grew up in Yubari, Hokkaido, where his family moved when he was four. Saito suffered many hardships at a young age. He lost his mother when he was 12 and had three stepmothers afterwards. He was once left at a temple against his wishes and immediately ran away. Saito graduated from a higher elementary school in Yubari at the age of 14, then worked at a pharmacy and gas company in Otaru. His life was not peaceful, but he found respite in drawing. His main means of enjoyment at this time was submitting children's songs to literary magazines and making illustrations to go with them. He also learned oil painting and explored this medium on his own.
Saito got a job at a sign maker in Otaru when he was 18, which matched well with his interest in art. He struck out on his own at the age of 20 and opened his own sign shop. Business was booming, but he also needed to learn about art, so he studied plaster figure sketching and oil painting techniques under Gyokusen Narita, who was teaching art at a local elementary school. Saito also became acquainted with Shiko Munakata(1903-75) through Narita.
Saito went to Tokyo at the age of 23 because he felt he had to see the city in order to do an advanced job like sign making. He handed over his shop to an acquaintance the following year in 1931 and went to Tokyo a second time. While supporting himself by making advertisements hung inside public bathhouses and working in book design, he used his spare moments to continue his independent studies of art. In 1932, he successfully submitted an oil painting to the 9th Hakujitsu Fine Art Association Exhibition for the first time. After that, he polished his skills by submitting oil paintings to various open-call exhibitions such as the Hakujitsu Fine Art Association Exhibition and Kokugakai Exhibition. During this time, he married his wife, Fumi, at the age of 26, and their daughter Naoko was born.
Encounter with woodblock prints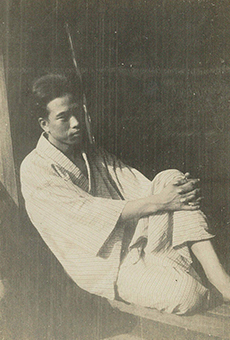 A major turning point came in 1936, when Saito encountered woodblock prints by Sotaro Yasui (1888-1955) at a gallery in Ginza and he was inspired to try this medium out for himself. A woodblock print by Saito was chosen for the first time in that year's 5th Exhibition of Japan Print Association. He also held his first solo exhibition in Otaru. Two of his woodblock prints and one of his oil paintings, including Woman in My Native Village were selected for the following year's 12th Kokugakai Exhibition. That year, he also visited Aizu for the first time since moving away. He felt warmly welcomed, immediately made many sketches, and produced works such as Winter in Aizu (Bange). Saito visited Aizu numerous times after that, and the Winter in Aizu series became an important part of his life's work.
In 1938, Saito was invited by Tadashige Ono (1909 – 1990) to become a member of the Formative Woodblock Print Society. He also suffered a major setback that year when the oil painting and print he submitted to the Kokugakai Exhibition were rejected. Saito was extremely shocked, and he started taking sketching lessons in Sukiyabashi. During this time he also read Hanga Wo Tsukuru Hito E ("To Woodblock Printers") by Yoshiro Nagase and studied topics including monotypes.
Another major event during this time was that Saito encountered masters of modern European painting through art magazines. He was particularly impacted by the work of Gauguin, Munch, and Redon. Saito said, "It is expressed as a 'mass,'" and, "My artwork became flat due to Gauguin."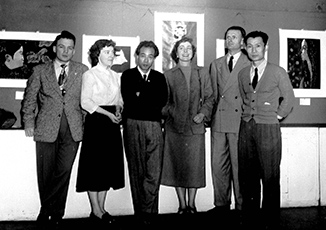 World War II began. Saito avoided conscription, but he was urged to provide cooperation, and he devoted himself to his artwork during this time. He held a solo exhibition at Kyukyodo in Ginza in 1942.
Saito started working at The Asahi Shimbun Company in 1944, during the closing years of the war, where he was involved in designing the text and covers. Around this time, he also became acquainted with Koshiro Onchi (1891 – 1955). Saito participated in the Ichimokukai woodblock print research society led by Onchi, and his Asakusa Scene was included in the Tokyo Kaiko Zue ("Recollections of Tokyo") book planned by Onchi. When the art world was steadily recovering after the war, Saito once again started submitting artwork to the restarted Japan Print Association and Kokugakai and putting on solo exhibitions. During this time, Americans in Japan began taking notice of Saito's work and appraising it positively.
Saito's work becomes popular among Americans
At the 1st São Paulo Art Biennial in 1951, Saito became the first Japanese person to win a prize at an international art exhibition for his woodblock print Steady Gaze , together with Tetsuro Komai (1920 – 1976) for his copperplate engraving Momentary Illusion.This was the first time a Japanese artist won a prize at an international art exhibition in the postwar era, and surprised many people because they were given for prints rather than oil or Nihonga paintings. Saito gained worldwide renown, centered in the United States, thanks to this prize.
During this period, Saito focused on depicting traditional Japanese culture, including clay figurines, ancient Buddha statues, the Katsura Imperial Villa, and the rock garden at Ryoan-ji temple. He said this was inspired by the Americans who made him aware of the wonderful qualities of Japanese culture. Saito said, "I was astounded by the compositions we can regard as an ultimate type of simplification." Stone Garden is a visual representation of this "ultimate simplification."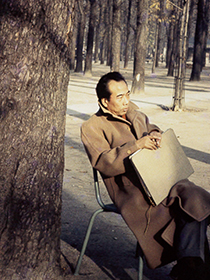 It conveys Saito's discovery of and resulting astonishment that this ultimate simplification—the most extreme version of abstract art—could be found in traditional Japanese culture.
Saito left The Asahi Shimbun Company, where he worked for 10 years, to focus on his own artwork in 1954. He went to the U.S. for the first time in 1956 at the invitation of members of the U.S. Department of State. His trip inspired a big response, including events in various locations such as solo exhibitions and lessons on woodblock printing techniques. He also visited Mexico, which became one major theme in his artwork afterwards.
The end of a slump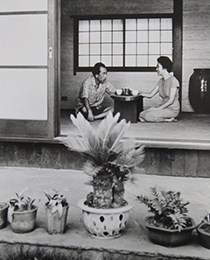 Saito's works were shown nearly every year in the U.S. and other countries. His renown only kept growing, and his work kept him extremely busy. However, he experienced physical issues such as a shoulder injury. He was also called a "commercial artist" and "souvenir woodblock printer" because of this popularity.
Saito felt concern about his path from around 1965. He said, "I started worrying what would happen if I kept drawing things like this, and I suddenly lost the ability to draw." His works began undergoing major changes from that time. At first glance, Wall of Kyoto (A) seems to draw on the trends of the 1950s, including its theme and composition. The flat areas of color, with a great deal of goma-zuridappling and carving, are totally different from the abstractness of Stone Garden. After that point, Saito switched from simple, flat areas of color and began adding complex artistic effects to his picture planes. One major example is the collagraphs he focused on from the 1960s. Interestingly, he once again took up themes he used in the 1950s, such as the Stone Garden (C) and the collagraph Clay Figurine (F). This shows that Saito's intentions were clearly changing.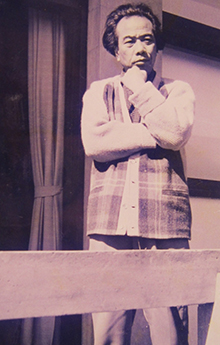 The 1960s were a difficult period for Saito, but this was also a rich era in which he learned the brand-new techniques of collagraph and bokuga (sumi ink painting) and broadened the span of his expressions. Winter at Hokke-do Temple, Nikko is one of his early bokuga pieces from this period. Saito overcame his crisis, during which he even considered suicide, through a process of trial and error. Nude (G) was a turning point. Saito said this artwork brought him out of his slump: "I was sketching the face of my maid when the hazy lines of my youth appeared. I was taken aback, and ended up drawing a nude sketch like those of the past." Saito realized these hazy lines—which he had removed during his process of flattening and simplification—added a complex nuance to the work, and he was able to move into his next phase this way.
Discovering shadows and returning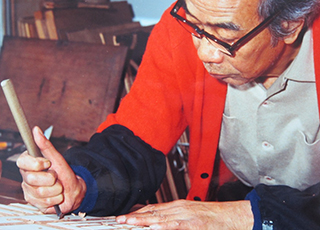 The 1970s were Saito's period of maturity as an artist. He moved to Kamakura in 1970 and began creating artwork on Kamakura-related themes. He also worked on past series and tackled new themes, including House in Aizu (A), Persimmon Tree in Aizu (3), and The Harvest Season in Aizu(2), which depicted the scenery of Aizu; Flower and a Girl, which he said was for young people; and The Eye, which is impressive for its simple, vivid composition.
Another unique characteristic of this era was that Saito returned to themes he had worked on before. He began depicting old Buddha images in the 1950s. This became the Tenderness series, and was a major topic for Saito's woodblock prints and bokuga until his final years. Kyoto was another important subject for Saito in the 1950s, of which Katsura, Kyoto is one example. However, there are clear differences when compared to pieces such as Katsura, Kyoto. The linear composition seems to be an extension of Saito's 1950s-era work, but he added deep shadows and light that beckon the viewer from the dark forefront to the bright interior. This gives the work a depth that is more than spatial; it conveys the profound spiritualty of the building.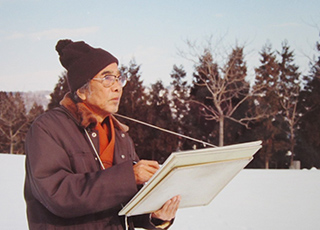 Saito resumed his Winter in Aizu series, which he started in his youth, the same year he moved to Kamakura. It totals 115 pieces, and Saito kept working on it until the last years of his life. One of his earliest pieces from this time is unique for its defined contrast between white and black. However, as time passed Saito began adding delicate shading to his picture planes. The landscapes are given deep emotion through the people and hanging laundry amidst the deep snow. In 1987, Saito moved from Kamakura to Yanaizu, which is close to his hometown. He created Winter in Aizu (71) Wakamatsu that year. This landscape is a monotone world with a blue noren curtain. The noren casts a shadow on the doorway that evokes a sense of human presence amidst the stillness, giving the landscape rich poetic sentiment.
Saito lived in Yanaizu until he passed away in 1997. During the last 10 years of his life he was supported by locals including the family of Tokuichi Watanabe, and his desire to create artwork never waned until the end. Many of his works from this period depict the natural features of Aizu, including the Aizu in May series and Spring Mist, Tenderness. Saito was born in Aizu and always had strong feelings for the region, although he lived away from it for many years. He said, "Visiting a place once or twice a year is nothing like living there." This may express that Saito finally felt he had become true resident of Aizu.
Year

(age)

Kiyoshi Saito's life
Art trends
Events in Japan and across the world

1907

(0)

Born on April 27 in Aizubange Town, Kawanuma District, Fukushima Prefecture to Seisaku and Rui Saito. He was the oldest child and had two younger sisters.
Pablo Picasso released the Proto-Cubist work Les Demoiselles d'Avignon.
1

st

Ministry of Education, Science and Culture Art Exhibition.
The United Kingdom, France, and Russia entered into the Triple Entente.

1911

(4)

Moved with his family to Yubari, Hokkaido.
1

st

Der Blaue Reiter Exhibition (by Wassily Kandinsky and others).
Gauguin and Munch were frequently introduced in Shirakaba, Waseda Literature, and other Japanese literary magazines starting from the previous year.
The Xinhai Revolution broke out.

1914

(7)

Began attending the Yubari Noborikawa Higher Elementary School (Elementary Program).
The Nika Association was founded.
The Nihon Bijutsuin was revived.
World War I started.
The Panama Canal was opened.

1919

(12)

Saito's mother, Rui, passed away.
He was temporarily left at a temple in Himeji, then returned to Yubari.
Entered the Yubari Noborikawa Higher Elementary School (Secondary Program).
Gropius and others founded the Bauhaus School.
1

st

Imperial Art Academy Art Exhibition.
Paris Peace Conference.
The Weimar Constitution was enacted.

1921

(14)

Graduated from the Yubari Noborikawa Higher Elementary School (Secondary Program).
Began an apprenticeship at a pharmacy in Midori Town, Otaru City.
Wrote children's songs, submitted them to magazines, and drew illustrations around this time.
Bunka Gakuin was founded.
Washington Naval Conference.
Prime Minister Takashi Hara was assassinated.

1924

(17)

Became an apprentice workman at the Otaru branch company of Hokkaido Gas Co.,Ltd.
Learned of the term "oil painting" and began exploring this medium.
André Breton released the first Surrealist Manifesto.
First Olympic Winter Games at Mont Blanc in Chamonix.

1925

(18)

Started working at Ad Research, a sign company in Otaru. Afterwards, he got a job at Miyata Katsudo Signs in Sapporo.
International Exhibition of Modern Decorative and Industrial Arts in Paris.
Art Deco was popular.
The Maintenance of Public Order Act and General Election Act were promulgated in Japan.

1926

(19)

Was ordered by his father to return to Otaru, where he jointly managed a sign store.
The Tokyo Metropolitan Art Museum was opened.
The Showa Period began.

1927

(20)

Struck out on his own and opened a sign shop.
Brought his gouache paintings to Shinsui Tanaka, a Nihongo painter visiting Otaru, and asked to become one of his pupils.
The Musée de l'Orangerie was opened.
Financial crisis in Japan.

1929

(22)

Learned drawing and oil painting from Gyokusen Narita, an art teacher at an elementary school in Otaru.
Became acquainted with Shiko Munakata through Gyokusen's introduction.
The Museum of Modern Art was opened in New York City.
The Imperial Art School was founded.
Great Depression.

1930

(23)

Went to Tokyo for the first time on a visit with his friend Katsuji Iriki.
The Ohara Museum of Art was opened.
The Dokuritsu Bijutsu Kyokai association was founded (and held its first exhibition the following year).
Mahatma Gandhi began protesting against British rule through civil disobedience.

1931

(24)

Handed over his sign shop to an acquaintance and went to Tokyo again to become a real artist.
Studied art while working in advertising.
The Japan Print Association was founded.
Mukden Incident.
Record-setting cold-weather damage and poor harvests in Hokkaido and the Tohoku region.

1932

(25)

Submitted work to the 9

th

Hakujitsu Fine Art Association Exhibition and was chosen for the first time.
French Surrealist artworks were shown in Japan for the first time at the Exhibition of the Avant-Garde Artists Paris-Tokyo.
Manchukuo was founded.
Prime Minister Tsuyoshi Inukai was assassinated in the May 15 Incident.
The Nazi Party led by Adolph Hitler became the dominant party.

1933

(26)

Submitted an oil painting to the 1

st

Tokokai Exhibition and was chosen for the first time.
Married Fumi, the younger sister of Toyoji Uetani, the owner of the house where Saito was staying. They lived in Ebara before moving to Ueno Hirokoji.
The Nazis shut down the Bauhaus School.
The Kyoto City Museum of Art was opened.
Adolph Hitler became chancellor.
New Deal.
Japan left the League of Nations.

1935

(28)

Submitted an oil painting to the 10

th

Kokugakai Exhibition and was chosen for the first time.
The Tama Art School (currently Tama Art University) was spun off of the Imperial Art School.
Tenno Kikansetsu incident.

1936

(29)

Was inspired by the work of Sotaro Yasui to begin woodblock printing.
Submitted Seated Child (Young Girl) to the 5

th

Exhibition of Japan Print Association and was chosen for the first time.
Held his first solo exhibition at the Imai Dry Goods Store in Otaru.
The Osaka City Museum of Fine Arts was opened.
February 26 Incident.
The Spanish Civil War started.

1937

(30)

Traveled to Aizu for the first time since moving away to visit Ino, his mother's younger sister. He visited Aizu many times afterwards.
Began the Winter in Aizu series around this time.
Picasso showed Guernica for the first time at the Spanish Pavilion of the Exposition Internationale Paris.
The Nazis put on the Entartete Kunst exhibition.
1

st

Shinbunten Exhibition.
Marco Polo Bridge Incident, start of the Second Sino-Japanese War.
Anti-Comintern Pact concluded by Japan, Germany, and Italy.

1938

(31)

His oil painting and woodblock print were rejected from the 13

th

Kokugakai Exhibition, and he keenly felt that he needed to study harder.
Studied sketching at a research institute in Sukiyabashi.
Was invited by Tadashige Ono to become a member of the Zokei Hanga Kyokai (Formative Woodblock Print Society). Showed Child in my Hometown in the 2

nd

Formative Woodblock Print Society Exhibition.
Taro Okamoto participated in the International Surrealism Exhibition.
The Tokyo Imperial Household Museum (currently Tokyo National Museum) was opened.
The National Mobilization Act was promulgated and enforced.

1939

(32)

Naoko, his daughter, was born.
Submitted work to the 26

th

Nika Association Exhibition and was chosen for the first time.
Read Hanga Wo Tsukuru Hito E ("To Woodblock Printers") by Yoshiro Nagase and began making monotypes.
Attended the Gekkoso Sketching Research Institute in Shinjuku.
The Shin Roman-ha Kyokai association was formed.
The Bijyutsu Bunka Art Association was founded.
World War II started.
Battles of Khalkhin Gol.

1940

(33)

Learned of and became interested in the works of Gauguin, Munch, and Redon from art magazines around this time.
An event (including an art exhibition) was held celebrating 2,600 years of imperial rule.
The Lascaux cave paintings were discovered.
The Tripartite Pact was signed by Japan, Germany, and Italy.
The Imperial Rule Assistance Association was founded.

1942

(35)

Held his first solo woodblock print exhibition at the Kyukyodo Gallery in Ginza.
Traveled around China and sketched in Beijing at the invitation of his friend Katsuji Iriki.
Jean Fautrier began working on the Otages series.
Jewish people were massacred at Auschwitz and other locations.
Pacific War (1941 – 1945).

1943

(36)

The Japanese Woodblock Print Apprenticeship Association was formed. Saito became chairman and then stepped down during the same year.
The Japan Art and Patriotism Association was founded and held the 2

nd

Greater East Asian War Art Exhibition.
The Imperial Japanese Navy's garrison was defeated in the Battle of Attu.
Students departed for battle.

1944

(37)

Began working at The Asahi Shimbun Company. His tasks included cover and text design for the morning edition.
Became acquainted with Koshiro Onchi and joined the Ichimokukai.
Open-call exhibitions were banned in Japan.
The Invasion of Normandy started.
The American army landed on Saipan.
Start of air raids on the Japanese mainland.

1945

(38)

Evacuated his family to Aizu to avoid the air raids. Lived together with the Uetani family in Zoshigaya after the end of the war.
Visited Busan and Bulguksa temple on the Korean Peninsula as a military artist around June.
At the invitation of Koshiro Onchi, produced Asakusa Scene for the Tokyo Kaiko Zue ("Recollections of Tokyo") book (Tadao Takamizawa Woodblock Print Research Institute).
Kohdo Bijutsu was founded.
The American army landed on Okinawa's main island.
The world's first atomic bombs were dropped on Hiroshima and Nagasaki.
The Potsdam Declaration was accepted and World War II ended.

1947

(40)

Held a solo woodblock print exhibition at the Towa Crafts Gallery, which made him known among American residents of Japan.
Did text design for the newly launched National Museum News.
Jackson Pollock began his drip paintings.
1

st

Japan Indépendants Exhibition.
First House of Councillors election.
The Constitution of Japan was executed.
The Marshall Plan (European Recovery Program) was put into operation.

1948

(41)

Showed work at the Modern Print Exhibition (Nihombashi Mitsukoshi) organized by the Tokyo Army Education Center and at a woodblock print exhibition at the Ernie Pyle Theatre in Yurakucho.
Moved to Higashioizumi, Nerima City.
Bijutsu Techo ("Art Journal") magazine was launched.
Contemporary Chinese and Japanese Print Exhibition (Nihombashi Takashimaya).
Sozo Bijutsu (currently the SOGA-kai Association of Japanese Painting) was founded.
Israel was established.
The Arab-Israeli conflict started.
The Tokyo Trials were concluded and sentences were carried out.

1949

(42)

Showed Milk at the 1

st

Salon du Printemps Exhibition and won the First Prize.
The Horyu-ji temple Kondo murals were burned.
Tokyo University of the Arts was opened as a university under the new system.

The North Atlantic Treaty Organization (NATO) was founded.
The People's Republic of China was founded.
Division of Germany.
Hideki Yukawa became the first Japanese Nobel laureate (Physics).

1951

(44)

Showed Steady Gaze at the 1

st

São Paulo Art Biennial. Together with Tetsuro Komai's Momentary Illusion, Saito was the first Japanese person to win a prize at an international art exhibition.
Michel Tapié held the Confrontation of Vehemence Exhibition and advocated for the term "L'art Informel."
1

st

São Paulo Art Biennial.
The Kanagawa Prefectural Kamakura Museum of Modern Art (currently The Museum of Modern Art, Kamakura & Hayama) was opened.
San Francisco Conference, the Treaty of Mutual Cooperation and Security between the United States and Japan was signed.

1954

(47)

Quit his job at The Asahi Shimbun Company.
Began communicating with artists in Fukushima Prefecture via watercolor painter Tasuku Kasukabe.
Moved to Moro Town, Itabashi City.
Japan-U.S. Impressionist Art Exhibition (Riverside Museum, U.S.; at The National Museum of Modern Art, Tokyo the following year).
Gropius came to Japan and put on the Gropius and Bauhaus Exhibition (The National Museum of Modern Art, Tokyo).
Gutai was founded.
The Daigo Fukuryu Maru was exposed to nuclear fallout by American army hydrogen bomb testing at Bikini Atoll.
The Japan Self-Defense Forces were established.
Akira Kurosawa and Kenji Mizoguchi won the Silver Lion at the Venice International Film Festival.

1956

(49)

Was invited by the U.S. Department of State and Asian Culture Foundation to visit the U.S. and Mexico. Held solo exhibitions and taught woodblock printing techniques at universities and art museums in the places he visited. Learned lithography from artist Frederick O'Hara.
Became acquainted with artist Glen Alps around this time.
Shiko Munakata won the International Printmaking Prize at the 28

th

Venice Biennale.
Lawrence Alloway advocated for pop art.
Japan joined the United Nations.
Minamata disease.

1957

(50)

Showed Yakata (Castle) and won a prize in the 2

nd

Yugoslavia Graphic Art Biennial (Ljubljana International Woodblock Print Biennial).
Michel Tapié visited Japan to share "L'art Informel."
Tapié started sharing the activities of Gutai in other countries around this time.
The Soviet Union successfully launched a satellite.
The Japan Atomic Energy Research Institute (Tokai Research Lab) achieved criticality for Japan's first atomic reactor.

1958

(51)

Injured his shoulder around this time. Isamu Umehara introduced Saito to Kazuyuki Otsu, who became his apprentice.
After that, Saito gradually entrusted Otsu with the printing.
Nitten was founded as an incorporated association.
The International Art of a New Era traveling exhibition.
Tokyo Tower was completed.

1959

(52)

Was invited by American entrepreneur C.V. Star to visit France. Stayed in Paris from November to December.
The National Museum of Western Art was opened.
The Solomon R. Guggenheim Museum was opened.
Cuban Revolution.
Crown Prince Akihito and Michiko Shoda's wedding ceremony was broadcast on TV.

1962

(55)

C.V. Star became Saito's patron. Saito visited the U.S. a second time and held solo woodblock print exhibitions in various locations. He also taught woodblock print making at the University of Washington. He learned collagraph printing from Glen Alps, who was teaching at the university.
Left the Japan Print Association.
Andy Warhol's 200 Campbell's Soup Cans made pop art popular in the U.S.
Cuban Missile Crisis.

1963

(56)

Held the Bokujinkai Exhibition with Nihonga painter Sanryo Sakai (who was from Mishima Town) and Tasuku Kasukabe. Saito showed 13 bokuga (sumi ink paintings). He became interested in bokuga (sumi ink painting).
Jiro Takamatsu, Genpei Akasegawa, and Natsuyuki Nakanishi founded the High Red Center and put on its first exhibition.
Nam June Paik held the world's first video art exhibition.
Martin Luther King, Jr. gave his "I Have a Dream" speech at the March on Washington.
President Kennedy was assassinated.
Successful satellite transmission between Japan and the U.S.

1964

(57)

Was invited by the University of Hawaii Art Festival to visit Hawaii, and spent six weeks there.
Held a solo woodblock print exhibition at the Honolulu Museum of Art. Donated woodblock and collagraph prints to the Honolulu Museum of Art.
The Japan Cartoonists Association was founded.
Art exhibitions were held at the Tokyo National Museum and other locations as part of the Tokyo Olympics.
Tokyo Olympic and Paralympic Games.
The Civil Rights Act was enacted in the U.S.
Gulf of Tonkin Incident, the U.S. begins full-scale intervention in the Vietnam War.

1965

(58)

Visited Australia for a solo charity woodblock print exhibition. Demonstrated woodblock printing at a national art research institute.
Stopped by Tahiti on his way home.
Richard Wollheim advocated for "Minimal Art."
The Tutankhamun Exhibition traveled to the Tokyo National Museum and other locations.
The Treaty on Basic Relations between Japan and the Republic of Korea was signed and diplomatic relations were normalized with South Korea.
Eisaku Sato was the first postwar prime minister to visit Okinawa.
The Cultural Revolution began.

1967

(60)

Saito's portrait of Prime Minister Eisaku Sato was printed on the cover of the February 10 issue of Time magazine.
Visited India to hold a solo woodblock print exhibition organized by the Indian Ministry of Culture.
Met with his cousin, Tokuichi Watanabe, and his wife Yoshino, who lived in Yanaizu Town. Started drawing snowy scenery and visited Yanaizu each year after that.
Arte Povera, Im Spazio in Italy.
The Soyuz crashed, resulting in the first human death in a space flight.
Pollution became an issue in Japan, and the Environmental Pollution Prevention Act was promulgated.
The Association of Southeast Asian Nations (ASEAN) was formed.

1970

(63)

Visited South Korea.
Moved to Nishimikado, Kamakura City (followed by Hase after).
Large-scale Munch Exhibition at The Museum of Modern Art, Kamakura & Hayama.
Japan Airlines Flight 351 was hijacked.
Expo '70 in Osaka.
Author Yukio Mishima committed ritual suicide.

1976

(69)

Became an honorary citizen of Yanaizu Town.
Large-scale Cubism Exhibition at The National Museum of Modern Art, Tokyo.
Neo-Expressionism became popular around this time.
Prime Minister Kakuei Tanaka and others were arrested in the Lockheed bribery scandals.
North and South Vietnam were integrated into the "Republic of Vietnam."

1977

(70)

Saito's portrait of Prime Minister Takeo Fukuda was printed on the cover of the March 28 issue of Time magazine.
Visited Prague to hold a solo exhibition organized by the National Museum of Czechoslovakia.
Yamanashi Prefecture purchased The Sower and other artworks.
The National Museum of Art, Osaka was opened.
The Crafts Gallery was opened at the National Museum of Modern Art, Tokyo.
An end was declared to the Cultural Revolution.
Japan Airlines Flight 472 was hijacked by the Japanese Red Army.

1981

(74)

Received The Order of the Sacred Treasure, Gold Rays with Rosette at the autumn bestowal of orders.
Gustav Klimt's works were shown in Japan for the first time at the Isetan Shinjuku Store.
Restoration work was completed on the Takamatsuzuka Tomb murals.
Large-scale Matisse Exhibition at The National Museum of Modern Art, Tokyo and The National Museum of Modern Art, Kyoto.
Restoration work was completed on Leonardo da Vinci's The Last Supper.
Space Shuttle Columbia reached space on its first flight.
First confirmed AIDS case.
Prince Charles wed Princess Diana.

1983

(76)

Winter in Aizu (51) Yamaguchi was purchased by the Agency for Cultural Affairs as an excellent piece of artwork.
Restoration work was completed on Borobudur.
The National Museum of Japanese History was opened.
Colored murals were discovered at Kitora Tomb.
Start of the Internet.
Tokyo Disneyland was opened.
Nintendo released its Nintendo Entertainment System (NES).

1987

(80)

His wife, Fumi, experienced worsening health. They moved from Kamakura to Yanaizu Town.
The Machida City Museum of Graphic Arts was opened.
Van Gogh's Sunflowers was sold at auction to Sompo Japan Nipponkoa for 5.8 billion yen.
JR was founded to take over the national railway business.
Korean Air Flight 838 bombing.
The U.S. and Soviet Union signed the Intermediate-Range Nuclear Forces Treaty.

1991

(84)

Fumi passed away at a hospital in Aizuwakamatsu City.
Demolition and restoration work was completed on the Katsura Imperial Villa.
The Kyoto University of Art & Design was opened.
The Gulf War broke out.
The Soviet Union collapsed.

1995

(88)

Selected as a person who made outstanding cultural contributions for 1995.
The Tokyo Photographic Art Museum was opened.
The Museum of Contemporary Art, Tokyo was opened.
Tadao Ando won the Pritzker Architecture Prize.
Great Hanshin-Awaji Earthquake.
Tokyo subway sarin attack.
Okinawa rape incident.
Microsoft released Windows 95.

1997

(90)

The Kiyoshi Saito Museum of Art, Yanaizu was opened.
Died of pneumonia at a hospital in Aizuwakamatsu City on November 14 at the age of 90.
Horyu-ji temple's Kudara-Kannon Bodhisattva statue was shown at the Louvre Museum.
The Tokyo National Museum and other facilities became independent administrative institutions.
The world's first cloned sheep was born.
Japanese embassy hostage crisis in Peru.
Handover of Hong Kong.
The Kyoto Protocol was adopted.